Dear Future Me, it's probably only the second week of January and you have already give up on your New Year's resolution.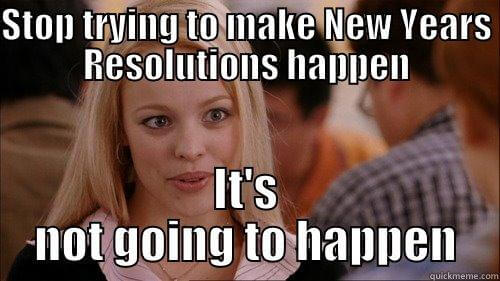 We don't know about you, but this feeling can be the worst.
So, here's a suggestion…No New Year's Resolution.
Just a single word. 😳
When we decide to implement a single word resolution we aren't limiting ourselves and it can't make us feel guilty. With one word, we can never fail.
---
Resolution Of One
The first step, described by the lovely Vivian Camille, is to choose your word. You really need to know the 'why' behind your word, though, don't just pick something random.
Choose something that you want to focus on in your actions throughout the new year, such as commitment, discipline, fearless, or peace. Vivian chose the word 'freedom' and started to demonstrate this in her video by spontaneously vlogging a last minute trip to Cabo with her family.
What an outcome, from her single word resolution. Maybe we should pick 'freedom' too, am I right?! 😂
---
Checking-In
Next step to a one word resolution, is to check in with yourself. Instead of picking a word and just forgetting about it (like most previous resolutions that deserve to be forgotten), check in once a day, week, or month. During these check-ins, just think about the word and recognize if you are implementing it. Checking in really helps us to know what the word does and doesn't mean to us to better understand.
We don't always need to be explicitly in line with the word and all encompassing of it. It's okay to be organized or controlled if the word you choose is spontaneity at times. That's the beauty of a single word resolution.
---
Resolution That Lacks Failure? Yes, Please!
The third step to recognizing what a single word resolution entails and how to achieve it, is that you can't fail. A New Year's Resolution, you can fail and not complete/do. A single word is complex and general, as well as tangible and something you can check in with yourself on. However, one word resolutions do not entail one action or the lack thereof to make you feel that you are failing.
---
Document It
Last, but not least, write it down. ✏️ Vivian provides three ways in which we can document our progress for our single word resolutions. The first is journaling, second is jotting things down in your phone, and third is to write yourself letters. 💌 Being able to look back at memories and feelings that you had along the way is a great reward every now and then Vivian shares.
---
"No Resolution No Problem"
Watch Vivian's vlog to hear it straight from her, all the tips and tricks to a single word resolution. We don't need to set ourselves up for failure, so let's make it simple this new year, with one word. Share your New Year word choice down below! 💗