---
Have You Ever Thought About How You Apply Mascara?
One of the things I did in building My Little Mascara Club is to survey and study bunches of women on EVERYTHING mascara.
Some of the things I found made sense (like the fact that we hate smudging, love length, volume, etc).
But, the one that surprised me the most was that there are SO many ways we women use to apply mascara. And, that we don't usually even think to consider that we may apply mascara different from others!
If you are anything like me, you love big, luscious lashes… aka VOLUME. So, I'm delighted to present to you the mascara application technique that creates the greatest volume. Yay for full lashes!
Follow the simple steps below, or get the full scoop in the video above.
---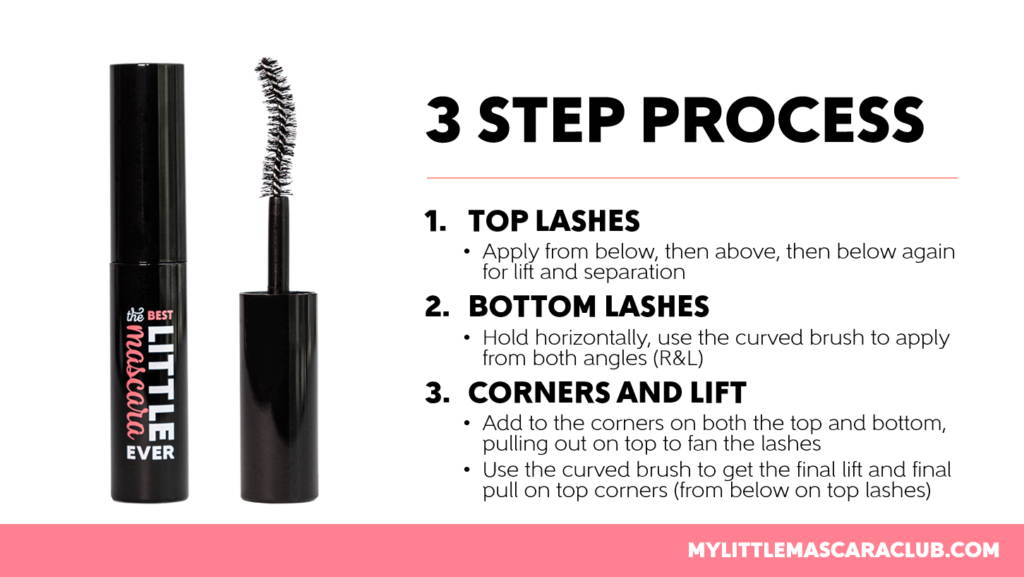 There you have it. How to apply mascara for maximum volume!
---
PRO TIP For Volume:
I find that most women are nervous to apply mascara to the top of their upper lashes. They think it will weight or press them down. That is sorta true… Which is why it is key to do the lift from below after the application from above. Then the final lift + corner pull to seal the deal and maximize volume. : )
Give it a try and let me know what you think! It can be tricky to change years of muscle memory in how you apply your mascara. But test it out and see if you notice a difference in the volume of your lashes. Of course, we believe our unique mascara brush (part straight and part curved) is the perfect tool to use for maximum volume. But, using this technique with most any mascara should get you more volume, length and curl than you saw before.
If you want more tips on how to feel better about yourself and life make sure to connect with us on Facebook and Instagram.
And, if you'd like to try what we humbly believe is The Best Little Mascara Ever, join the club!